Lyemance Lock Top
Chimney Damper
When you close our damper warm air is sealed in and cold air is sealed out.

Call 800 685 8263 or buy online at www.volkosupply.com

Lifetime warranty

| | | |
| --- | --- | --- |
| Replaces leaky throat dampers | Chimney fire safety device | Keeps animals out of your chimney |

| | |
| --- | --- |
| Energy efficient - seals in furnace heat and air conditioning | Made of cast aluminum and stainless steel |

Click the pictures
for a closer look
---
Stock Sizes
Fits inside flue sizes
Clay or terracotta flues are usually square or rectangular with "rounded" corners.
Always measure a flue tile side to side, not corner to corner.

Fits

square or rectangular flues with "rounded" corners.



May not work on oval flue liners
8" x 8"
6" x 6" to 9" x 9"
8" x 13"
6" x 9" to 9 1/2" x 12 1/2"
8" x 17"
6" x 14" to 9" x 17 1/2"
13" x 13"
9" x 9" to 12 1/2" x 12 1/2"

13" x 17"
9" x 14" to 12 1/2" x 17 1/2"
17" x 17"
14" x 14" to 17 1/2" x 17 1/2"
Volko Supply is recognized as a leading distributor for Lyemance & Lock Top top sealing chimney dampers.
---
Special SWEEPS RING COMBO SPECIAL Limited Time
Order any size Lyemance LockTop damper and add a Sweeps Ring for only $31.99
Shipping Included* Sweeps Ring must be ordered and ship with LockTop damper to be valid
Pricing and to buy online visit volkosupply.com

---
Lock-Top's rubber gasket seals tightly like a storm door for your fireplace, and keeps heating and cooling dollars where they should be...in your home.

Lock-Top mounts on top of your chimney to keep out animals and rain.

Lock-Top easily operates from inside your firebox and seals tight every time you close it—eliminating any draft.


Cast-iron plate and frame do not seal tightly, allowing energy dollars to escape.

Traditional dampers are located in the "throat" of a fireplace. They are made of cast-iron and are housed in a low-tech frame work.

These cast-iron dampers do not seal well—they have a leaky, rough, metal-to-metal seal.

Recent lab studies have shown that even a new throat damper can leak up to $200 of heating and cooling a year. Imagine how much energy an old, rusted out damper leaks!
---
That's right, the Lock Top damper seals with a rubber gasket, not metal to metal like your current damper. A Lock-Top Damper seals tight, so virtually no air, and thus no heat or air conditioning gets lost up your chimney.

The Lock Top also eliminates downdrafts, seals out rain which can deteriorate the inside of your chimney, and prevents entry by pests like squirrels, raccoons, and nesting birds.

The Lyemance Lock Top Chimney Damper mounts on top of your chimney

A cable drops down your flue and attaches to a handle which mounts where you can reach it for convenient opening and closing.

Superior stainless steel and cast-aluminum construction equal a lifetime warranty
The Lock-Top Damper is made of cast-aluminum and stainless steel, precision fitted with our special silicone rubber gasket. These high-quality materials add up to a factory lifetime warranty for you.

---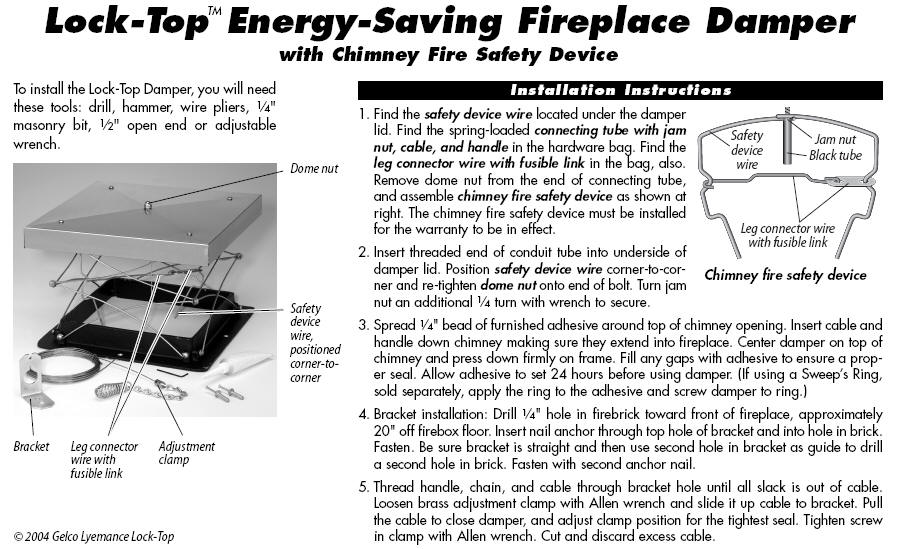 Why buy Lyemance???? Take a look at the competition.
What is STAINLESS STEEL?
Stainless steel is a family of iron based alloys that must contain at least 10.5% CHROMIUM (Cr). The presence of chromium creates an invisible surface film that resists oxidation and makes the material "passive" or corrosion resistant (i.e. "stainless").
Grading Stainless Steel.
As a percentage, the first number is the amount of chromium that is contained in the stainless i.e. 18 is 18% chromium. The second number is the amount of nickel i.e. 8 stands for 8% nickel. So 18/8 means that this stainless steel contains 18% chromium and 8% nickel. This is a common name for Type 304 Stainless. The higher the numbers the more corrosion resistant the material. I wonder how much money was actually saved to make these "other" caps?
Here are some of the advantages of using Lyemance brand dampers:
Proven by being in the industry for over 20 years for the Lyemance damper and over 15 years for the LockTop damper.
Continually tested by an outside lab to ensure functionality and seal tightness.
The best materials chosen for each part/component on the product.
Power-lever on Lyemance damper is proven to open damper in extreme snow/icing conditions.
Backed by a company that has been around for over 25 years.
Patented product.
Both have a consistent rubber gasket seal that seals the damper base to the lid like a canning jar. Others may have an injected seal that is usually not consistent in creating a tight seal.
---
Check out all our top sealing damper options at volkosupply.com
Free Shipping!! Top Sealing Chimney Dampers Free Shipping!!


Original
Lock Top
Lock Top II
Damper Cap
RS Adaptors
Chimalators
Round Spider
---
Back To: Chimney Cap Source chimney cap selections.....
| | | | | |
| --- | --- | --- | --- | --- |
| | | | | |
| Single Caps | Double Caps | Multiple Caps | Round Caps | Turbines |
| | | | |
| --- | --- | --- | --- |
| | | | |
| Vacu Stacks | Weather Shield Caps | Damper Caps | Chimney Fans |